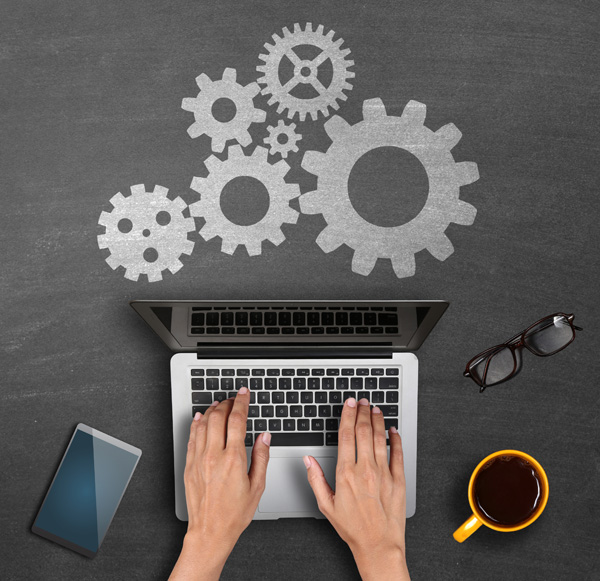 BigLever Newsletter
Get some PLE Insight.
BigLever's PLE Insight newsletter spotlights a variety of topics — such as the latest trends and happenings in the PLE arena, updates on PLE advances in key industry sectors, as well as observations and lessons learned from our interactions and collaboration with customers and partners. 
We invite you to sign up below to receive our newsletter — and we welcome your feedback regarding your organization's PLE endeavors and challenges.
Featured Newsletter Issues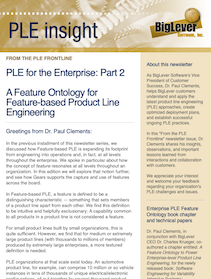 Dr. Paul Clements, BigLever VP of Customer Success: From the PLE Frontline
A Feature Ontology for Feature-based Product Line Engineering: In the previous installment of this newsletter series, we discussed how Feature-based PLE is expanding its footprint from engineering into operations and, in fact, at all levels throughout the enterprise. We spoke in particular about how the concept of feature resonates at all levels throughout an organization. In this edition we will explore that notion further, and see how Gears supports the capture and use of features across the board.
In Feature-based PLE, a feature is defined to be a distinguishing characteristic — something that sets members of a product line apart from each other.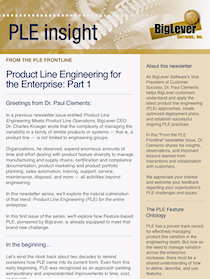 Dr. Paul Clements, BigLever VP of Customer Success: From the PLE Frontline
In a previous newsletter issue entitled Product Line Engineering Meets Product Line Operations, BigLever CEO Dr. Charles Krueger wrote that the complexity of managing the variability in a family of similar products or systems — that is, a product line — is not limited to engineering groups.
Organizations, he observed, expend enormous amounts of time and effort dealing with product feature diversity to manage manufacturing and supply chains, certification and compliance documentation, product marketing and product portfolio planning, sales automation, training, support, service, maintenance, disposal, and more — all activities beyond engineering.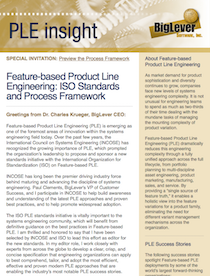 Special Announcement from BigLever Software
During the past few years, the International Council on Systems Engineering (INCOSE) has recognized the growing importance of Product Line Engineering (PLE), which prompted the organization's leadership to propose and sponsor a new standards initiative with the International Organization for Standardization (ISO) on PLE.
This newsletter issue highlights the ISO PLE standards initiative — as well as BigLever's collaboration with Method Park for the creation of the Feature-based PLE Process Framework, which is derived from the same principles and practices that are being applied in the new ISO PLE standards.
Sign up to receive our PLE Insight Newsletter.