Featured-based Product Line Engineering (PLE) delivers tremendous business and technical benefits that many forward thinking organizations are now leveraging to gain a competitive edge.
If you're ready to discover what PLE can do for your organization…
you've arrived at the right place.
BigLever's Getting Started process is part of our holistic onePLE solution which provides everything you need to establish your full PLE capability — a Feature-based PLE Factory.
onePLE delivers the business strategy, organizational change expertise, and technology needed to create, standup and successfully operate your PLE Factory — staffed with highly trained and skilled PLE executives, technical leaders, and practitioners.
It is available for organizations of any scale: an enterprise, division, business unit, or organization responsible for the production of a single product line.
At BigLever, we understand how challenging it is to determine what path to take — and where to begin. That's why we created the Getting Started process.
During our years on the PLE frontline, we've learned what it takes to put an organization on the path to PLE success, from the initial starting gate. We've created and codified the pragmatic methods and best practices that allow companies to simplify, streamline and jump start the journey to PLE, while avoiding obstacles and pitfalls along the path.
We translated these methods and practices into our Getting Started process — proven incremental, non-disruptive approaches combined with the just right mix of world-class expertise and guidance to get your organization firmly pointed in right direction.
BigLever's Getting Started Package
Your decision about where to start — and how to invest in — your PLE transition can be confusing. BigLever makes this decision, and this investment, much easier with the Getting Started Package.
Based on our Getting Started process, this specially priced package provides a proven effective, highly affordable way for you to not only get your PLE journey underway, but to fully energize and accelerate your transition. BigLever's Getting Started Package will allow you to gain executive and organizational buy in, illuminate the technical and strategic business benefits of PLE, and determine return on your investment — from the start.
This special package is a hands-on program that entails two intensive working events: the Technical Getting Started Workshop and the Business Getting Started Workshop.
The Technical Getting Started Workshop.
The Technical Getting Started Workshop entails the interactive creation of a pilot project that illustrates product line concepts in your application domain and organizational context. This provides input to executives and organizational managers as to the feasibility of the technological approach, and enables your technical leadership to weigh in on the advantages and issues associated with the PLE factory approach in your organization's own context.
The primary outcome is one or more production lines that satisfy your product line needs, with feature models that correspond to your products and shared assets configured to support them. Another important outcome is the knowledge and hands-on experience you will gain with advanced product line strategies and techniques, as well as specific knowledge applicable to your situation and context.
The Business Getting Started Workshop.
The Business Getting Started Workshop is the business-oriented analog to the Technical Getting Started Workshop. It gathers your organization's business leaders and product and project managers to produce your first iterations of the following:
PLE Living Business Plan.
This seven-part plan is created, owned, and carried out by executive leadership. It establishes your organization's precise need, importance, and urgency for adopting PLE. It lays out unambiguously who owns the problem that PLE is intended to solve, and the intended scope of the PLE solution.
The business plan also makes clear what investment is needed for successful adoption, and the payoff that investment can be expected to bring. It provides the ongoing means for your executive leadership to not just endorse PLE as a corporate direction, but the means to drive, fund, and own its adoption.
PLE Concept of Operations.
The PLE Concept of Operations is the "operating manual" for your PLE factory on a day-to-day basis. Activities include "steady state" activities for a product line that is up and running, along with definitions of the role and responsibilities for those staffing the PLE Factory as well as the leadership overseeing it.
PLE processes and policies are documented in the ConOps, which defines roles, responsibilities, and procedures for activities in each of the four quadrants shown in the spiral adoption model. A ConOps can apply at the enterprise or business unit level, or to individual product line groups.
PLE Spiral Adoption Plan.
Your transition to PLE will not happen in one massive shift. BigLever's approach to PLE transition is highly incremental. Your organization can take the journey to PLE in small steps that you can absorb without disrupting ongoing production.
Nevertheless, each step brings benefit and leaves you closer to the goal of full PLE capability. To facilitate incremental transition planning, we employ a spiral model of adoption which charts your incremental path through various areas of activity.
With the completion of each cycle, your organization is further along its adoption path (as measured by the distance from the origin point at the center). Progress is steady, but no cycle overwhelms your ability to absorb new practices and processes.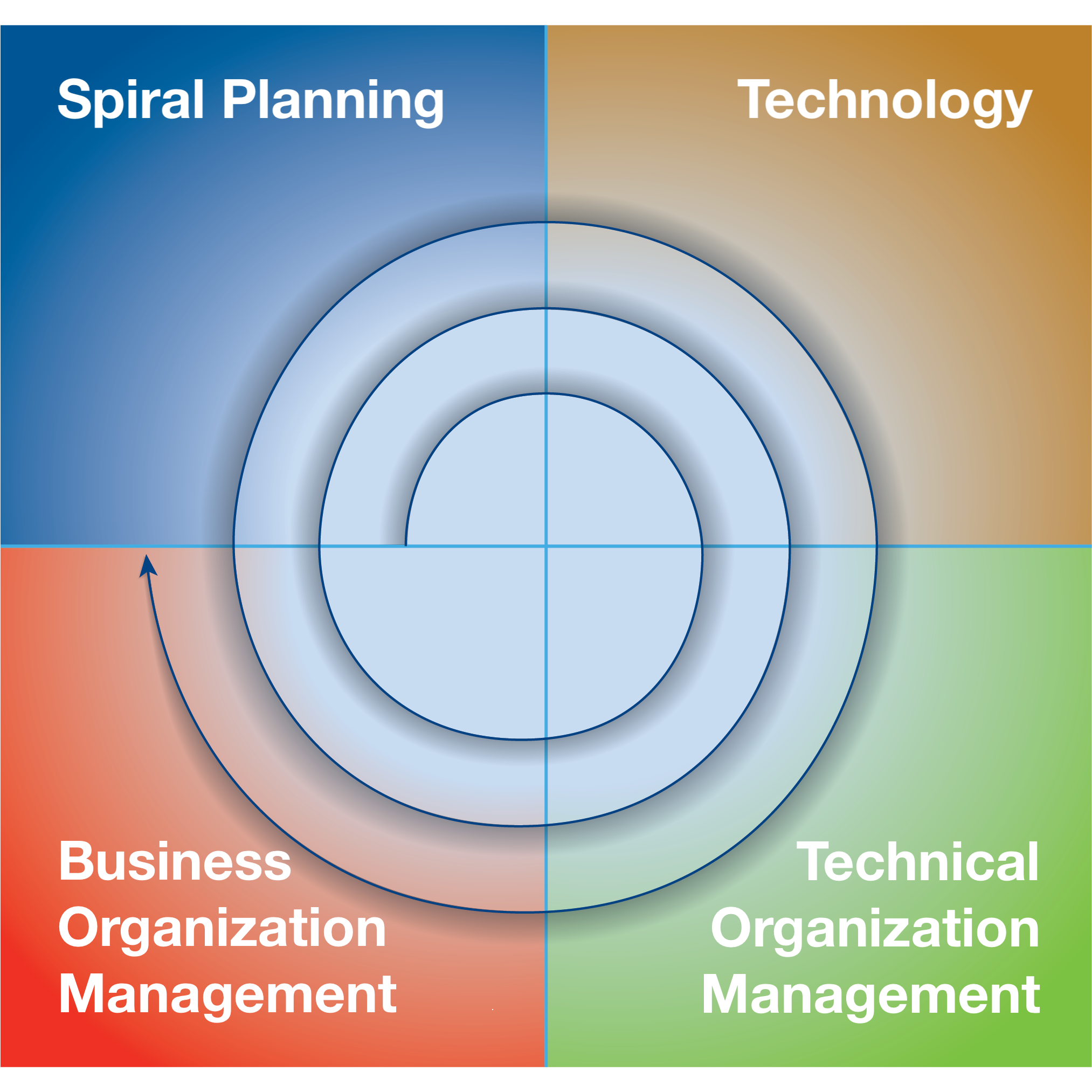 BigLever's spiral model of PLE adoption