Welcome to the second part of this 12-part Momentum blog series. Today we have Dr. Bobbi Young presenting Digital Transformation: Composing Your Digital Future. Bobbi is a Systems Engineering Fellow at Raytheon. She leads an Internal Research and Development Project focusing on adoption of Product Line Engineering (PLE) across the business. She is regarded throughout Raytheon as an expert in MBSE and PLE and is a member of the Raytheon Corporate Architecture Board.
A theme of this symposium was pushing the limits of what is possible in systems, digital system engineering practice, and feature-based PLE approaches. Bobbi gave us a compelling combined view into all of these with her case study on Raytheon's digital engineering approach to quickly exploring the trade space for new missile system designs. Using modular open systems architecture, a shared library of composable digital assets, a feature-based PLE digital factory to proliferate best possible digital designs based on mission objectives, and digital simulation to predict the best performance among those designs, Raytheon has reduced the process down from two years under conventional approaches to a few months or weeks with their innovative digital engineering approach and technology.
Think about that for a minute…. all that time, expense and effort saved by improving their engineering technology. There's no down side to that!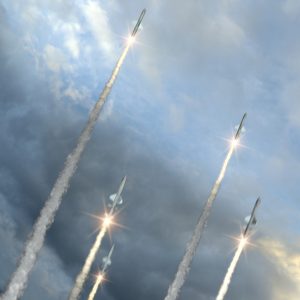 Digital engineering practices have transformed how Raytheon designs and builds missiles. Their digital transformation approach includes:
Designs based on modular common components connected through identified standards,
Feature-based Product Line Engineering for identifying commonality and managing variation within a product line of product lines,
Model-Based Engineering (MBE) to capture the logical system design of a missile, and effect a transformation to a digital representation and communications through digital artifacts, and
Implementing digital transformation through digital engineering capabilities to begin a missile's digital twin.
Much more ambitious than simply reusing existing component designs from previously built missiles, this approach involves automatic generation, exploration, and pruning of a trade space of possible missile designs that satisfy a given set of requirements. The goal is to radically lower development and production costs by rapidly settling on a viable design that can be taken to design validation, then complete design and production, all in a digital ecosystem.
Watch this fascinating presentation and you'll be surprised how much you'll learn.